For Immediate Release: March 21, 2016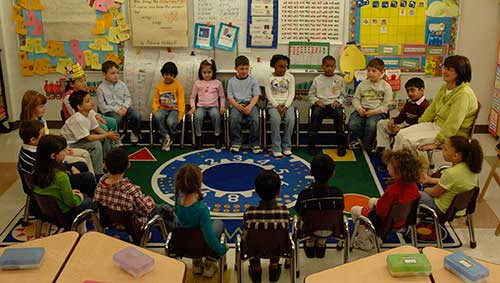 The Wellesley Centers for Women (WCW) will kick off its spring lunchtime seminar series with the presentation "Integrating Mindfulness into Social and Emotional Learning" by Open Circle's Nancy MacKay, B.A.; Jim Strouse, M.A.; and Jen Dirga, M.S.W. on Thursday, March 31, from 12:30 to 1:30 p.m. at Cheever House, 828 Washington St.
"Mindfulness" has become an increasingly popular term, especially when it comes to education. But what is it, and what does it look like in the classroom? In the seminar, the presenters will answer these questions, sharing findings from a pilot to integrate mindfulness practices into Open Circle's social and emotional learning (SEL) professional development and curriculum. Through the pilot, 27 teachers participated in a four-day SEL training program that reviewed the definition of mindfulness, the rationale for incorporating it in education, and specific practices for educators and their students. The research findings presented will show the extent to which educators implemented these mindfulness practices, as well as its impact. The interactive presentation will also include demonstration and instruction of a few mindfulness practices introduced through the pilot.
Open Circle, an action program of WCW, is a leading provider of evidence-based curriculum and professional development for SEL in elementary schools. Since 1987, the program has reached 2 million children and 15,000 educators. It is currently used in over 300 schools across the United States.
As Open Circle Co-Director, Nancy Mackay, B.A. brings years of experience as an elementary teacher and a passion for making a difference in children's lives to her work. Before joining Open Circle, MacKay was principal owner of Baker-MacKay Associates – a training and consulting firm for non-profits. Jim Strouse, M.A. and Jen Dirga, M.S.W. are Program Managers at Open Circle. Both Strouse and Dirga bring years of experience in public schools and higher education to their work with Open Circle.
Most lunchtime seminars are held Thursdays, 12:30–1:30 p.m. at the Centers' Cheever House location. The programs are free and open to the public. Guests are invited to bring their lunches, and Wellesley Centers for Women will provide tea and coffee. Many programs are recorded and audio files are posted online at www.wcwonline.org/audioarchive. The lunchtime seminar series schedule is subject to change. To confirm program line-up, call 781.283.2500 or visit www.wcwonline.org/calendar.
The Wellesley Centers for Women (WCW) is the largest academic, women-and gender-focused, social-change-driven, research-and-action institute in the United States, located at Wellesley College. Scholars at WCW advance gender equality, social justice, and human wellbeing through high-quality research, theory, and action programs. Areas of work include: Education, Economic Security, Mental Health, Youth and Adolescent Development, and Gender-Based Violence.
Listen to the audio recording from this Lunchtime Seminar.