For Immediate Release: October 10, 2016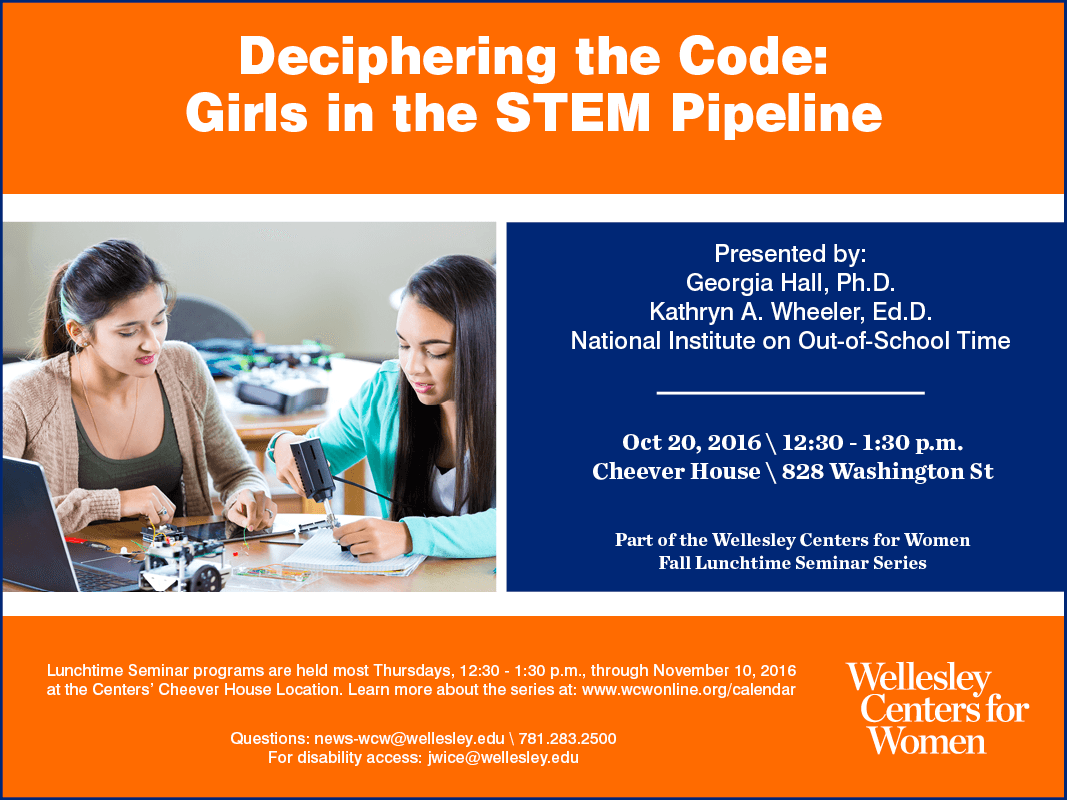 WELLESLEY, Mass. – The lack of gender diversity in science, technology, engineering, and math fields, better known as STEM, has been well documented, but what can be done to change it? Georgia Hall, Ph.D., and Kathryn A. Wheeler, Ed.D., will explore that topic in their presentation, "Deciphering the Code: Girls in the STEM Pipeline," on Thursday, October 20, at 12:30 p.m. at Cheever House, 828 Washington St, Wellesley, Mass. The program is part of this fall's Lunchtime Seminar Series hosted by the Wellesley Centers for Women (WCW) at Wellesley College.
In order to understand the gender gap in STEM fields and design effective interventions, argue Hall and Wheeler, girls' STEM learning experiences and exposure to pathways to STEM careers are worthy of study. In this seminar, Hall and Wheeler will share the experiences of girls in out-of-school time STEM programming through their investigation of girls' outcomes related to STEM knowledge, awareness and interest in STEM, as well as their attitudes toward their abilities in and access to STEM fields.
Hall is a senior research scientist at the National Institute on Out-of-School Time (NIOST) and associate director of WCW. She specializes in research and evaluation on youth development programs, settings, and learning experiences. Hall's work has also focused on program quality improvement strategies along with evaluation of summer learning programs and STEM initiatives for girls. She recently began working as NIOST's principal investigator, in collaboration with Global Evaluation and Applied Research Solution (GEARS), on the 21st Century Community Learning Centers State Monitoring and Technical Assistance Project with the Federal Department of Education.
Wheeler is a research associate at NIOST, with a focus on programs that empower girls. She has worked in a variety of capacities in this field, ranging from grant-making and grant-writing to evaluating individual programs and assessing community needs. Wheeler also served as editor of Teen Voices and executive director of the Girls' Coalition of Greater Boston. Wheeler holds a doctorate in education from the Harvard Graduate School of Education, where she worked with renowned scholar, Dr. Carol Gilligan, examining girls' relationships with science.
The National Institute on Out-of-School Time (NIOST) is a program of the Wellesley Centers for Women at Wellesley College. Since 1979, NIOST has moved the afterschool field forward through its research, education and training, consultation, and field-building. NIOST strives to ensure that all children, youth, and families have access to high-quality programs, activities, and opportunities and that these experiences are essential to the healthy development of children and youth, who can become effective and capable members of society.
Most Lunchtime Seminars are held Thursdays, 12:30–1:30 p.m. at the Centers' Cheever House location. For accessibility questions, contact Disability Services at Wellesley College at disabilityservices@wellesley.edu or call 781.283.2434. The programs are free and open to the public. Guests are invited to bring their lunches, and WCW will provide tea and coffee. For those who are unable to attend in person, many programs are recorded and audio files are posted online at www.wcwonline.org/audio. The Lunchtime Seminar Series schedule is subject to change. To confirm program line-up, call 781.283.2500 or visit www.wcwonline.org/calendar.
The Wellesley Centers for Women (WCW) is the largest academic, women-and gender-focused, social-change-driven, research-and-action institute in the United States, located at Wellesley College. Scholars at WCW advance gender equality, social justice, and human wellbeing through high-quality research, theory, and action programs. Areas of work include: Education, Economic Security, Mental Health, Youth and Adolescent Development, and Gender-Based Violence.