For Immediate Release: October 24, 2016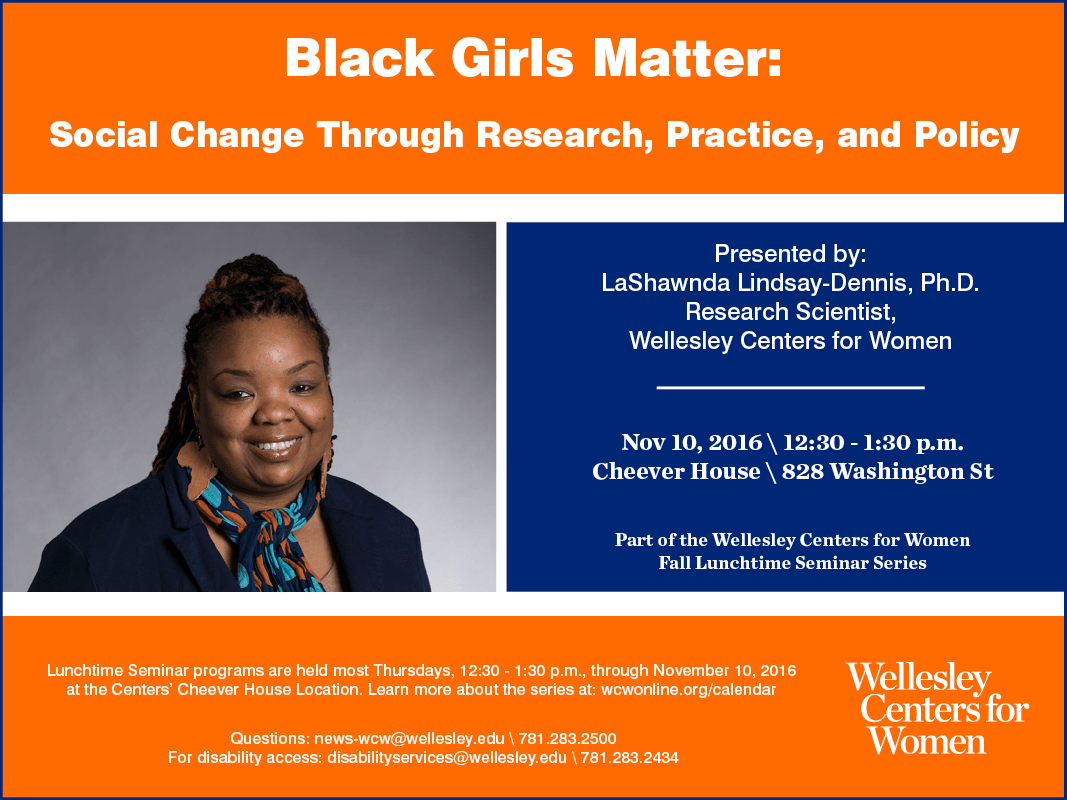 WELLESLEY, Mass. – Over the past five years, the world has witnessed, in real time through social media, deaths of many Black youth and adults. The ensuing public outrage has led to important discussions on race in America, but unfortunately and inadvertently, this discourse has largely left out the experiences of Black women and girls. The Wellesley Centers for Women (WCW) at Wellesley College will conclude its fall Lunchtime Seminar Series with an interactive discussion about these important issues, with a focus on how research can be used to improve the lives of Black girls and women. The program, "Black Girls Matter: Social Change Through Research, Practice, and Policy," will be led by LaShawnda Lindsay-Dennis, Ph.D. on Thursday, November 10, from 12:30 to 1:30 p.m. at Cheever House, 828 Washington St, Wellesley.
"Social media has served as a platform to expose the world to 21st century lynchings, often committed by police officers," said Lindsay-Dennis, a research scientist at WCW. The public witnessing of this violence and ensuing outrage led to the Black Lives Matter (BLM) Movement, founded by three Black women, that serves as a "call to action and a response to the virulent anti-Black racism that permeates our society" and brings "validity to Black life," according to its website.
But, Lindsay-Dennis says, "The Movement and ongoing public narrative perpetuate the historical endangered Black male narrative. This has left out many Black girls and women who have also been mistreated, harmed, and even killed by law enforcement officers." In her seminar, Lindsay-Dennis will use a culturally relevant theoretical framework, with an understanding of womanist, Black liberation, and nationalist ideologies, to initiate discussions about how this public narrative has taken shape.
Embodying the spirit of Maria W. Miller Stewart -- the first U.S. woman of African descent to speak publicly about the educational, economic, and social plight of the "daughters of Africa" -- Lindsay-Dennis hopes to engage attendees in an interactive discussion about how research, practice, and policymaking can be used to improve the life course of Black girls and young women.
Specifically, Lindsay-Dennis will address the following questions: Who are Black girls as members of families, schools, neighborhoods, communities, and society -- including within womanist, Black liberation, and nationalist ideologies; What theory or theories can be used to help educational, social, and medical practitioners, researchers, activists, and policymakers understand Black girls' individual and collective truths; How can data be used to contextualize Black girls' individual and collective truths as a means to develop best practices, programs, and policies that directly and indirectly impact their life course?
"Through my research, I try to be a voice for the muted, an advocate for the overlooked, and a champion for the ignored," said Lindsay-Dennis, "I have vigorously, and with deep devotion, accepted the call to enhance the wellbeing and lives of Black girls globally." Over the past decade, her research has created a platform that sheds light on the social determinants, racial injustices, and cultural biases that burden the progression and viability of Black girls and women.
Before joining WCW earlier this year, Lindsay-Dennis served as the interim chairperson and an associate professor of education at Paine College in Augusta, GA. She has mentored Black girls, implemented sustainable programs and initiatives for Black girls, and most recently founded Black Girls Matter: A Social Media Campaign.
The Lunchtime Seminar Series at WCW is free and open to the public. Most programs are held Thursdays, 12:30 - 1:30 p.m. at the Centers' Cheever House location. Guests are invited to bring their lunches, and WCW will provide tea and coffee. For accessibility questions, contact Disability Services at Wellesley College at disabilityservices@wellesley.edu or call 781.283.2434. For those who are unable to attend in person, many programs are recorded and audio files are posted online at wcwonline.org/audio. The Lunchtime Seminar Series schedule is subject to change. To confirm program lineup or get more information, call 781.283.2500 or visit wcwonline.org/calendar.
The Wellesley Centers for Women (WCW) is the largest academic, women-and gender-focused, social-change-driven, research-and-action institute in the United States, located at Wellesley College. Scholars at WCW advance gender equality, social justice, and human wellbeing through high-quality research, theory, and action programs. Areas of work include: Education, Economic Security, Mental Health, Youth and Adolescent Development, and Gender-Based Violence.