For Immediate Release: September 12, 2016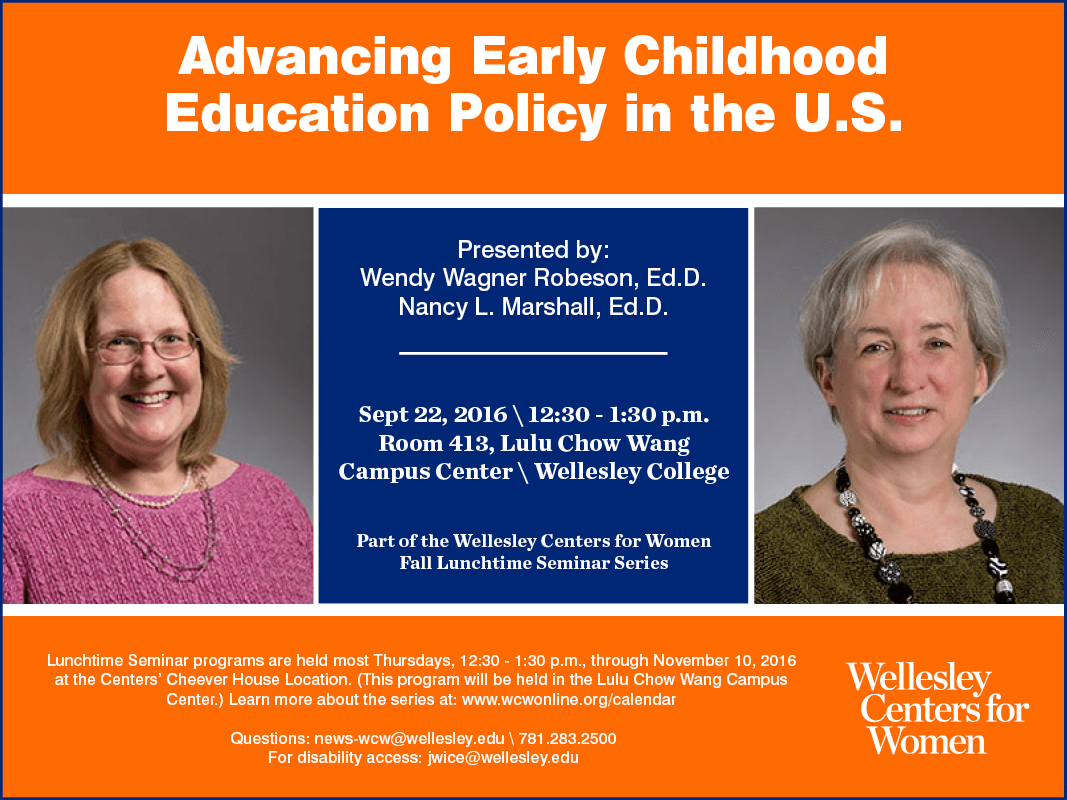 Early childhood education has been a much-discussed topic in the political world leading up to the 2016 election, but what do the experts have to say about it? Find out when the Wellesley Centers for Women (WCW) opens its fall Lunchtime Seminar Series with the program, "Advancing Early Childhood Education Policy in the U.S.," presented by Wendy Wagner Robeson, Ed.D., and Nancy L. Marshall, Ed.D., on Thursday, September 22, from 12:30 to 1:30 p.m. at the Lulu Chow Wang Campus Center, Room 413, at Wellesley College.
Studies show that the early years are important for children's growth and development, school readiness, and later life. Yet, the United States still lacks a coordinated national policy. In this program, Robeson and Marshall will present the major issues facing young children and their families, discuss their research at local, state, and national levels, and make recommendations for families, educators, and policymakers interested in advancing early childhood education policy.
Wendy Wagner Robeson, Ed.D., is a senior research scientist on the Work, Families, & Children Team (WFCT) at WCW, where she studies child development, early child care, early education, and school readiness. WFCT is led by Nancy L. Marshall, Ed.D., a senior research scientist and associate director at WCW as well as an adjunct professor at Wellesley College. At WCW, Marshall's research is concentrated in two main areas: studies of child care policy as it relates to early care and education and women and employment, with focuses on work-family systems and on working conditions and health.
Most Lunchtime Seminars are held Thursdays, 12:30–1:30 p.m. at the Centers' Cheever House location (this program will be held in the Wellesley College Campus Center). The programs are free and open to the public. Guests are invited to bring their lunches, and the Wellesley Centers for Women will provide tea and coffee. Many programs are recorded and audio files are posted online at www.wcwonline.org/audio. The Lunchtime Seminar Series schedule is subject to change. To confirm program line-up, call 781.283.2500 or visit www.wcwonline.org/calendar.
The Wellesley Centers for Women (WCW) is the largest academic, women-and gender-focused, social-change-driven, research-and-action institute in the United States, located at Wellesley College. Scholars at WCW advance gender equality, social justice, and human wellbeing through high-quality research, theory, and action programs. Areas of work include: Education, Economic Security, Mental Health, Youth and Adolescent Development, and Gender-Based Violence.