Huffington Post Business
by Caroline Turner
April 27, 2015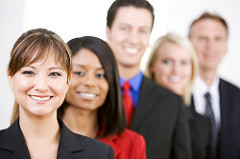 Corporate executive board comprised entirely of men comes under fire for lack of gender diversity. Executive board employs a singular woman to appease critics. Singular woman is talked over in board meetings, has her ideas attributed to male board members, and is generally treated like an outsider. Does limited representation in executive boards really sound like a quick fix to the lack of gender diversity in corporate America?
According to a 2006 study by WCW, a quota of one or two women in the board room is not enough. The study concludes that "a critical mass of three or more women can cause a fundamental change in the boardroom and enhance corporate governance." When there are at least three women in a board room, which is approximately one-third of the typical executive board, women are more likely to speak up and feel that the feminine aspects of their strengths and styles are valued.
Having this "critical mass" of female members in an executive board allows for more of a balance of feminine and masculine strengths and styles. Thus, it makes sense that companies with at least three female board members performed significantly better in sales, investment, and equity compared to those with sustained low representation of women in executive positions.