The WCW Legacy Society
It's a little known secret that planned gifts of estate assets are a wonderful way to make a gift that anyone can afford! These are gifts for the future that provide an opportunity to make a difference in the lives of women and families.
Planned gifts come in many forms: bequests, life-income gifts of charitable gift annuities, charitable remainder trusts, pooled income funds, or thoughtful retirement planning.
Commitments of planned gifts made now to WCW ensure that our innovative work on behalf of women, and all whose lives they touch, will continue in the years to come. Giving wisely now will benefit you, your loved ones, and the vitally important work undertaken here at WCW. Read more>>
For further details, please contact:
Office of Planned Giving
Wellesley College
This email address is being protected from spambots. You need JavaScript enabled to view it.
800.253.8916
(Be sure to mention that you are inquiring about ways to make a gift for the benefit of the Wellesley Centers for Women)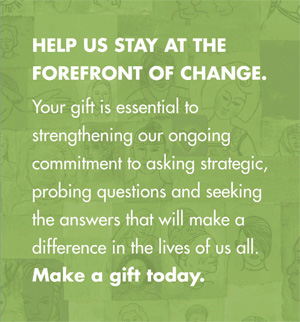 Your support matters!

The WCW Fund provides the vital support that allows us to

lift up the veneer and explore the real issues

at work for women in education, workplace participation, legal rights, gender violence, emotional health, and human rights.


CONTACT:

781.283.2484 •

This email address is being protected from spambots. You need JavaScript enabled to view it.
I decided to create life-income gifts at Wellesley because I want to support Wellesley, and I like the financial benefits. As someone who wants to live a long time, I like knowing there always will be income from the gift. When we named me as the income beneficiary (as opposed to both of us), Ted and I maximized both the annual income and the amount of the charitable gift income tax deduction. For a long time, I have been a supporter of the work of the Wellesley Centers for Women. Ted and I are pleased to know that these gift annuities will help support the centers with additional financial resources in the future.
Marcia Howe Adams '70
Los Altos, Calif.





For a financial proposal tailored to your circumstances, please contact Patricia Galindo, Wellesley College Office of Planned Giving, 800.253.8916. And don't forget to let her know you'd like your gift designated to the Wellesley Centers for Women!