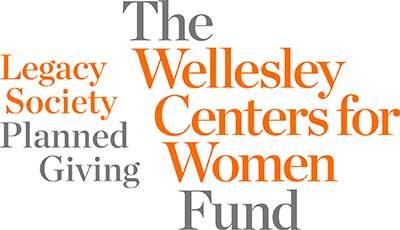 Planned gifts of estate assets are a wonderful way to make a gift that anyone can afford! By including us in your estate plans, you are ensuring a strong future for innovative, high-caliber research and action programs at the Wellesley Centers for Women.
Planned gifts come in many forms: bequests, life-income gifts of charitable gift annuities, charitable remainder trusts, pooled income funds, or thoughtful retirement planning. And, in addition to being meaningful, long-term gifts to sustain our work, they often offer benefits to you as well.
You can designate the Wellesley Centers for Women as the beneficiary of your planned gift at any age:
\ At 30, for your IRA or other retirement plan
\ At 40, for your life insurance plan
\ At 60, for your life-income gift annuity
\ At 80, as beneficiary of your estate
Giving wisely now will benefit you, your loved ones, and the vitally important work that will drive social change innovation forward into the future. Read more>>
For further details, please contact:
Office of Planned Giving
Wellesley College
pg@wellesley.edu
800.253.8916
(Be sure to mention that you are inquiring about ways to make a gift for the benefit of the Wellesley Centers for Women.)
Put the power of your philanthropy to work to make effective social change possible. Your generous investment supports innovative research and action programs in education, economic security, mental health, youth & adolescent development, and gender-based violence.


I decided to create life-income gifts at Wellesley because I want to support Wellesley, and I like the financial benefits. As someone who wants to live a long time, I like knowing there always will be income from the gift. When we named me as the income beneficiary (as opposed to both of us), Ted and I maximized both the annual income and the amount of the charitable gift income tax deduction. For a long time, I have been a supporter of the work of the Wellesley Centers for Women. Ted and I are pleased to know that these gift annuities will help support the centers with additional financial resources in the future.
Marcia Howe Adams '70
Los Altos, Calif.





For a financial proposal tailored to your circumstances, please contact the Wellesley College Office of Planned Giving, 800.253.8916. And don't forget to let them know you'd like your gift designated to the Wellesley Centers for Women!