WCW's Women Change Worlds Blog



The Women Change Worlds blog of the Wellesley Centers for Women (WCW) encourages WCW scholars and colleagues to respond to current news and events; disseminate research findings, expertise, and commentary; and both pose and answer questions about issues that put women's perspectives and concerns at the center of the discussion.

> WOMEN CHANGE WORLDS HOMEPAGE <
Helping Children Deal with Traumatic Events
A message from Open Circle, the elementary school social emotional learning (SEL) program at the Wellesley Centers for Women:
"In light of the recent shootings in Newtown, Connecticut, we are writing to share some resources that school communities might find helpful at this time. This tragedy touches all of us, both near and far, regardless of whether we are educators, parents or students. Open Circle would like to offer its assistance during this difficult time by helping schools support students who, understandably, may have questions or concerns in response to this tragic event.
"Children may need reassurance that their classroom and school are safe places for them. It is important to recognize the needs of individual children who might have a harder time coping with this event than others. Often children who are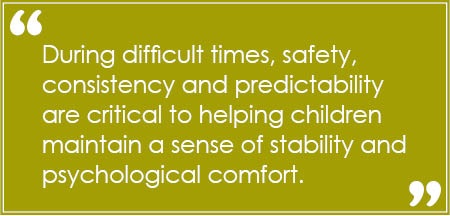 prone to anxious feelings or those with their own trauma history can be triggered by another traumatic event, even if it did not directly happen to them. In addition to the positive, supportive classroom climate and the social and emotional learning tools that Open Circle provides, some students may need additional time with a school psychologist or guidance counselor to help them manage their fears.
"It is also critical that adults get the support they need to help students with their questions and feelings about this tragic event. Modeling how to stay calm and knowing when to ask for help yourself will help reassure students of their safety and remind them that the adults in school will be there to take care of them.
"During difficult times, safety, consistency and predictability are critical to helping children maintain a sense of stability and psychological comfort. Open Circle provides a classroom routine and climate that is safe, consistent and predictable. Continuing to do Open Circle, as usual, is very important. Revisiting and applying the following skills and concepts may be one way to help students and adults as they deal with this traumatic event.
"Calming Down ...
Understanding Feelings ...
Speaking Up ...
Listening Skills ...
"Additional Resources
We recommend the following additional resources from the National Association of School Psychologists and the U.S. Substance Abuse and Mental Health Services Administration:
Open Circle is a universal social emotional learning (SEL) program focused on two goals: strengthening students' SEL skills related to recognizing and managing emotions, developing care and concern for others, establishing positive relationships, making responsible decisions, and handling challenging situations constructively; and fostering safe, caring and highly-engaging classroom and school communities.