Message from the Director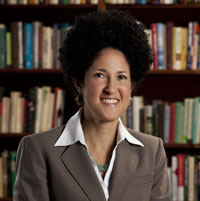 Message from the Director
My first year at the Wellesley Centers for Women (WCW) has been nothing short of exciting and energizing. From getting to know everyone here to representing WCW in venues as diverse as the U.N. Commission on the Status of Women to the White House Council on Women and Girls to the island nation of Cape Verde and applauding the many accomplishments of WCW researchers and project directors, it has been a year filled with opportunities to share our work and our expertise.
The Wellesley Centers for Women exists to conduct the research, develop the theory, and design and deliver the programs that make change for women and girls, their families and communities – not just any change, but the kind of change that increases well-being and justice in the world. We are home to a staff of over 90 that includes researchers, project directors, scholars, trainers, and their support teams. We are the largest academic research center in the U.S. that focuses primarily on issues related to women, girls, their families, and communities, in addition to gender, sexuality, and their intersections with other social dimensions. Since 1974, we have established an outstanding track record of research, theory, and programming that makes a real-world difference.
The work we do here at the Wellesley Centers for Women raises public consciousness and informs public policy. We are committed to influencing the direction of social change in ways that reflect feminist and womanist values and visions of a better world. Our tools are rigorous research – both basic and applied – and innovative theory that integrates the best of scientific and critical perspectives. What makes us distinctive is our commitment to the translation of research and theory into action. In fact, it was the WCW motto – "Research + Action" – that first attracted me here.
Here at WCW, we have spent the duration of 2013 working on WCW's first-ever organization-wide strategic plan. This strategic plan reflects the fact that, with four decades of innovative and influential work under our belts, we are now a mature institution ready to take on bigger challenges and make a bigger splash in the world. During the first half of 2014, our new plan will go public. Stay tuned!
Layli Maparyan, Ph.D.
Katherine Stone Kaufmann '67 Executive Director
Wellesley Centers for Women
Professor of Africana Studies
Wellesley College


A world that is good for women is good for everyone.(TM)

70+ full- and part-time staff members
30-40 undergraduate student employees
$6.8 million annual

budget

(*based on unaudited data for fiscal year 2013)
Since 1974, WCW has produced:
400+ papers, reports, and curricula
200+ scholarly journal articles
100+ books
These have resulted in:
Millions of readers
Tens of thousands of practitioners trained
Thousands of citations in scholarly journals and the popular press
...and critical changes in public policies, perceptions, and practices
Our Mission
Conduct scholarly research and sound action programs with women's perspectives and experiences at the center.
Ensure that this work reaches a wide audience and thus influences public policies and programs.
A world that is good for women
is good for everyone.

(TM)